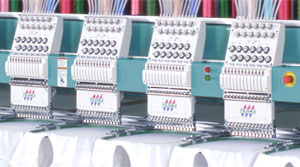 Progressive Graphics Inc. is your number 1 source in Montgomery County for embroidery. With many years of experience and successfully with many local schools, businesses and other organizations, which need help promotion their brand or identity on promotional items such as sweatshirts, custom t shirts, jackets, hats, and many other items.Custom Embroidery is classy and professional method of decoration your garments and provides your team with the highest quality garments.
Why choose Progressive Graphics Inc.
Our Embroidery division is capable of embellishing your companies logo on various items from staff shirts to caps. At Progressive Graphics Inc. we are confident that we provide a service and quality that is second to none. We take great pride in every project because we believe your brand is important to you and your clients, with that said we want to make sure that you are represented to the fullest with custom embroidery on your garments or professional products.
Our Embroidery Process
We start by digitizing your image or logo using our state of the art digitizing software which flawlessly translates your image pixel by pixel.
Then, our embroidery machines take over. Our embroidery machines are able to produce the highest quality as well as detailed images in a variety of colored thread per item and are capable of producing multiple products at a time. The competence and accurateness of this process allows Progressive Graphics to offer quick turnaround times compared to our competitors.
Custom Embroidery for your School or Sports Teams
Custom embroidery is not only for the business and corporate minded. Schools, booster clubs and travel teams can benefit from custom embroidery products with their school and team name in order to promote the spirit to the parents, students and fans while providing them a uniform look.