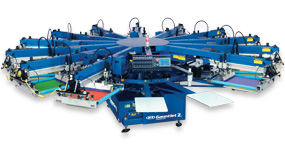 When your business depends on your image and leaving a memorable first impression, you need to partner with the right company that will help you convey exactly what your company or organization stands for. A clear image tells your audience that you only care for the best. After all, first impressions tend to last. You cannot afford to lose business because of a failed first impression.
At Progressive Graphics Inc., we make sure that your audience walks away with your image sharply imprinted in their minds. We do this by utilizing only the best tools of the trade and by training our staff according to industry best practices. And it doesn't hurt that we specialize in screen printing and contract screen printing.
Custom Screen Printing
Progressive Graphics Inc. specializes in custom screen printing and contract screen printing, and our capabilities range from simple designs to 4 color process on a variety of surfaces ranging from garments to vinyl labels. We can also do 1 color to 10 color designs on t-shirts, sweatshirts, caps, jackets, etc. We have both manual and automatic equipment and handle jobs from 24 pieces to 1000's with on-time delivery.
What you will get with Custom Screen Printing
There is nothing more captivating than wearing your companies logo or organizations name on a custom printed garment or promotional product. The following are some of our services.
Custom T-shirt printing is our specialty.
If you own a business and you want to make a specific design and print it in different colors, we can offer a variety of garment choices.
If this is a new project or the first time you are creating a custom screen printed garment and dont have a logo or artwork, One of our designer can help create an image with high impact.
We are capable of screen printing on  sweatshirts and outerwear.
Furthermore, we are capable of printing on jackets at very reasonable prices and are confident that we will meet your specific design needs. As we said before it is important consider a professional screen printing company to partner with.  Progressive Graphics Inc. is your best choice in Montgomery County for custom screen printing services.
Contact us for quotes or additional information, or Click here to view our online catalog